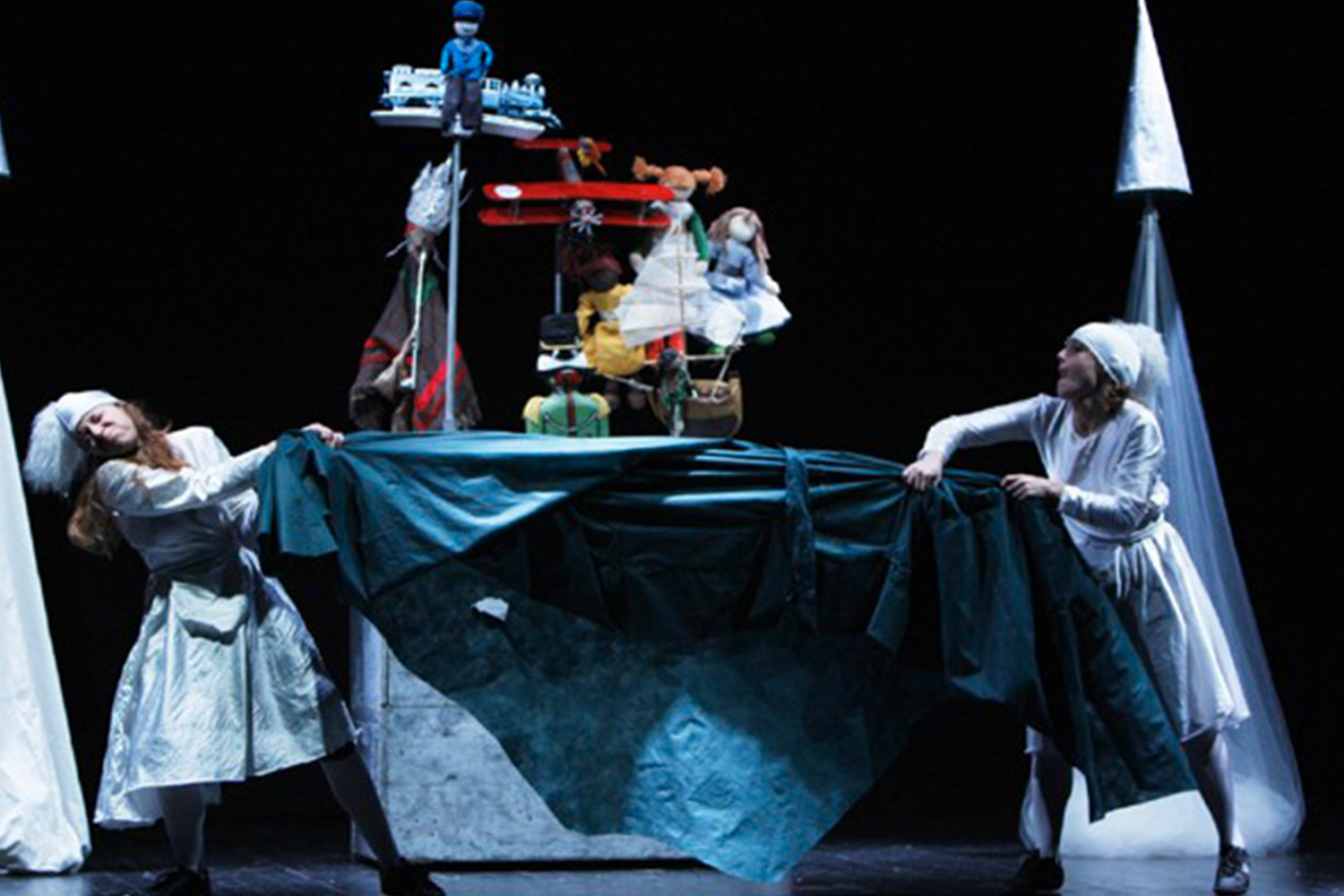 Gianni Rodari has accompanied the history of the Aida Foundation from its earliest years through reading projects, shows for children and productions. In 2009 we presented the work and life of the writer from Omegna (VB) through various performances. In fact, the show "La Freccia Azzurra" (The Blue Arrow) with Emanuela Camozzi and Monica Ceccardi was staged. There was also an exhibition of the covers of books illustrated by Bruno Munari (in collaboration with the Corraini publishing house), Francesco Altan (in collaboration with the Edizioni El publishing house) and Emanuele Luzzati, as well as animated readings accompanying the exhibition.
The speech by Massimo Lazzeri, director and teacher, were fundamental in explaining the work of the master from Omegna. In fact, Lazzeri explained the work of the children's writer, who was also a journalist committed to civil issues. Rodari, a pedagogue-educator, wrote a fundamental book on children's imagination (Grammar of Fantasy), and edited, among other things, Andersen's fairy tales for Edizioni Einaudi.
The project was created thanks to a vast network of partners such as the Italian Cultural Institute of New York and Chicago, the Consulate of New York and Chicago, Italidea, IACE Italian American Committee on Education of New York, Scuola Italiana Guglielmo Marconi, Edizioni EL and Casa Editrice Corraini and the patronage of the Ministry of Cultural Heritage and Activities.
American stages of The Grammar Fantasy
17 APRIL, NEW YORK 14.15 (animated readings and exhibition) NECTFL – North East Conference on the Teaching of Foreign Languages Marriott Marquis Hotel, 1535 Broadway Times Square
18 APRIL, NEW YORK 10.15 a.m. (animated readings and exhibition) and 2.15 p.m. (presentation of Rodari's work and theatrical performance) NECTFL – North East Conference on the Teaching of Foreign Languages Marriott Marquis Hotel, 1535 Broadway Times Square
20 APRIL, NEW YORK 6.00 p.m. (project presentation) Italian Institute of Culture New York, 686 Park Avenue, New York NY 10065
21 APRIL, NEW YORK 9.45 a.m. (performance in Italian) 11.45 a.m. (performance in English) 2.15 p.m. animated readings, Scuola d'Italia "G. Marconi" New York, 406 East 67th Street (bet. 1st Ave & York Ave) New York NY 10065
APRIL 22, NEW YORK 9.45 a.m. (performance in Italian) 11.45 a.m. (performance in English). Scuola d'Italia "G. Marconi" New York, 406 East 67th Street (bet. 1st Ave & York Ave) New York NY 10065
23 APRIL, BALTIC (CONNECTICUT) 1.00 p.m. (performance in English), IACE Connecticut Sayles School 25 Scotland Road, Baltic CT 06330 Connecticut
24 APRIL, NEW YORK 3.45 p.m. (animated reading), Centro Raccontami 100 W 14th street, New York NY
27 APRIL, CHICAGO 10.30 am (performance in English) Darwin School 3116 W. Belden Avenue Chicago IL 60047
APRIL 28, CHICAGO 10.30 a.m. (performance in English) Ridgewood High School 7500 W. Montrose Avenue Norridge IL 6070. Montrose Avenue Norridge IL 6070 6 6.00 pm presentation of the project, Italian Institute of Culture, 500 N. Michigan Ave 1450
29 APRIL, CHICAGO 10.30 am (performance in English), The Ogden School of Chicago, 24 W. Walton StreetT Chicago IL 606. Walton Street Chicago IL 60610