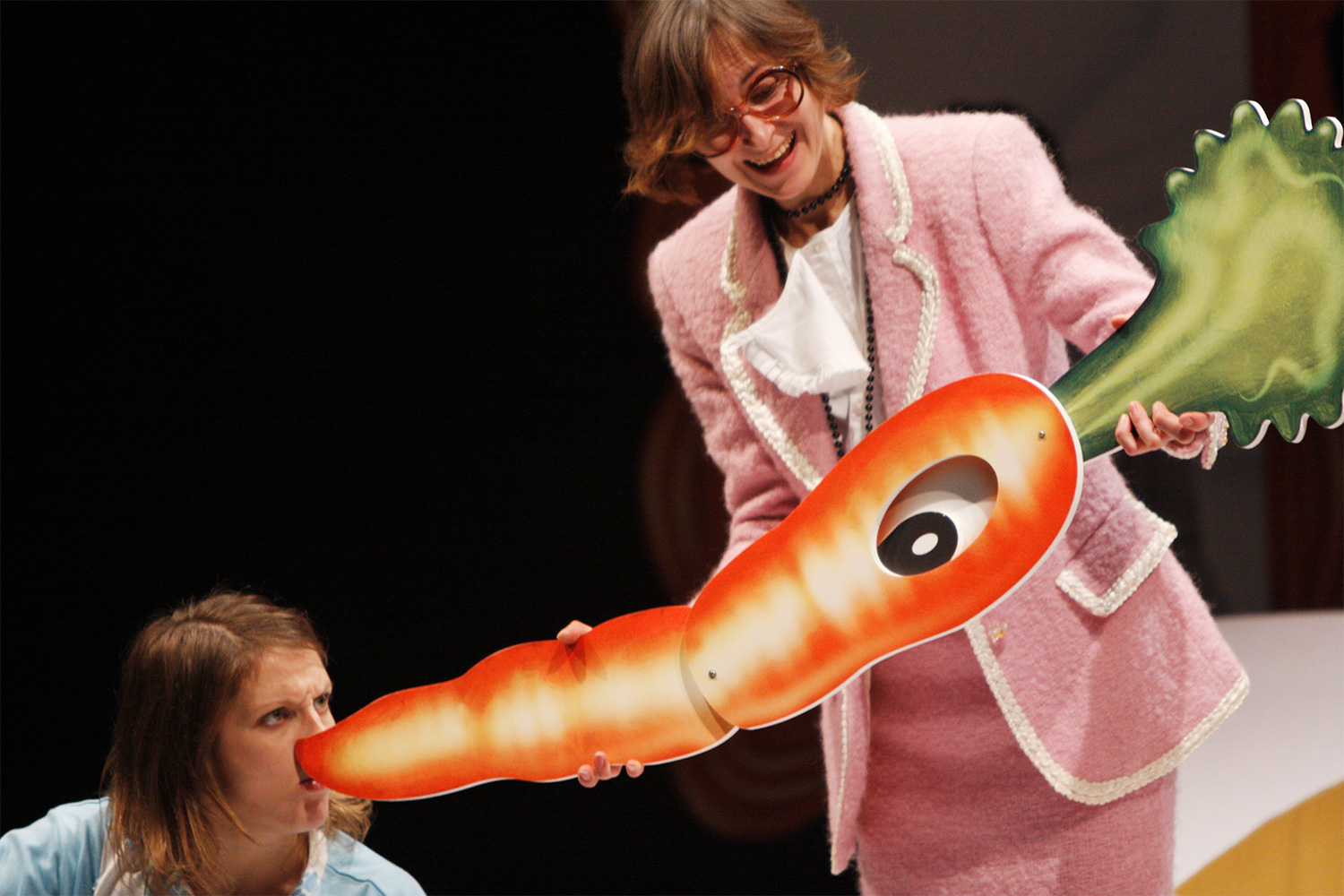 The show is inspired by Processo alle verdure – vizi e virtù alimentari degli ortaggi by Roberto Luciani.
Plot
Carlotta was sent to bed without dinner because she didn't want to eat the soup. She tosses and turns in bed angry and… hungry! After all, what fault does she have if the vegetables are not good? None! The vegetables themselves are to blame. Of course, if they tasted like candy or chocolate she would eat them, but they taste like… What do they taste like? Carlotta doesn't know, because… she's never tasted them! Before falling asleep, Carlotta ponders a drastic solution to get rid of the vegetables and thinks that, if she was the mayor, she would make a law to have all vegetables thrown in the rubbish!
In the middle of the night, what can only happen in dreams or fairy tales happens: the little girl is woken up by the voice of the mayor, who has heard the proposal to eliminate vegetables, and, from two photographs, her grandfather and grandmother emerge.
So there are enough elements to start… a trial! A cheerful and grotesque trial, which highlights the merits and flaws of vegetables. But it will not be enough to issue a verdict declaring guilt or innocence, and then why not continue with a game, the "tasting game" and a party, the "vegetable party", and then slip again, slowly, in a sweet sleep that, when she wakes up, will sprout in Carlotta's mind the seed of a doubt: what if the vegetables were good?
The plot unfolds in a succession of twists, songs and funny situations, hovering between dream and reality. The set is composed of a huge bed, on which Carlotta, her grandfather and grandmother play, sing, laugh and give life, through the use of silhouettes, to vegetables. The mayor's voice is the unmistakable and ironic one of Paolo Poli, who embellishes the show like a lace.
Of course, children will not leave the show with an irresistible desire to stuff themselves up on vegetables (or to eat cabbage… as a snack!), but perhaps they too will have the same doubts as Carlotta and decide to at least… try them!
Dettagli
Crediti
Produzione: Fondazione Aida – Camst – Giunti progetti educativ
Voce: Paolo Poli
Adattamento teatrale: Massimo Lazzeri
Con: Fabio Slemer, Stefania Carlesso e Mariangela Diana
Musiche: Andrea Faccioli
Canzoni: Massimo Lazzeri
Arrangiamenti: Diego Moser
Luci: Stefano Mazzanti
Scene: Stefano Coccurello
Tecnico audio e luci: Riccardo Carbone
Regia: Massimo Lazzeri
Pupazzi: Nadia Simeonova
Tecnica utilizzata: Teatro d'attore, pupazzi
Durata: 50 minuti
Fascia d'età: dai 3 anni
Immagini
Video
Download