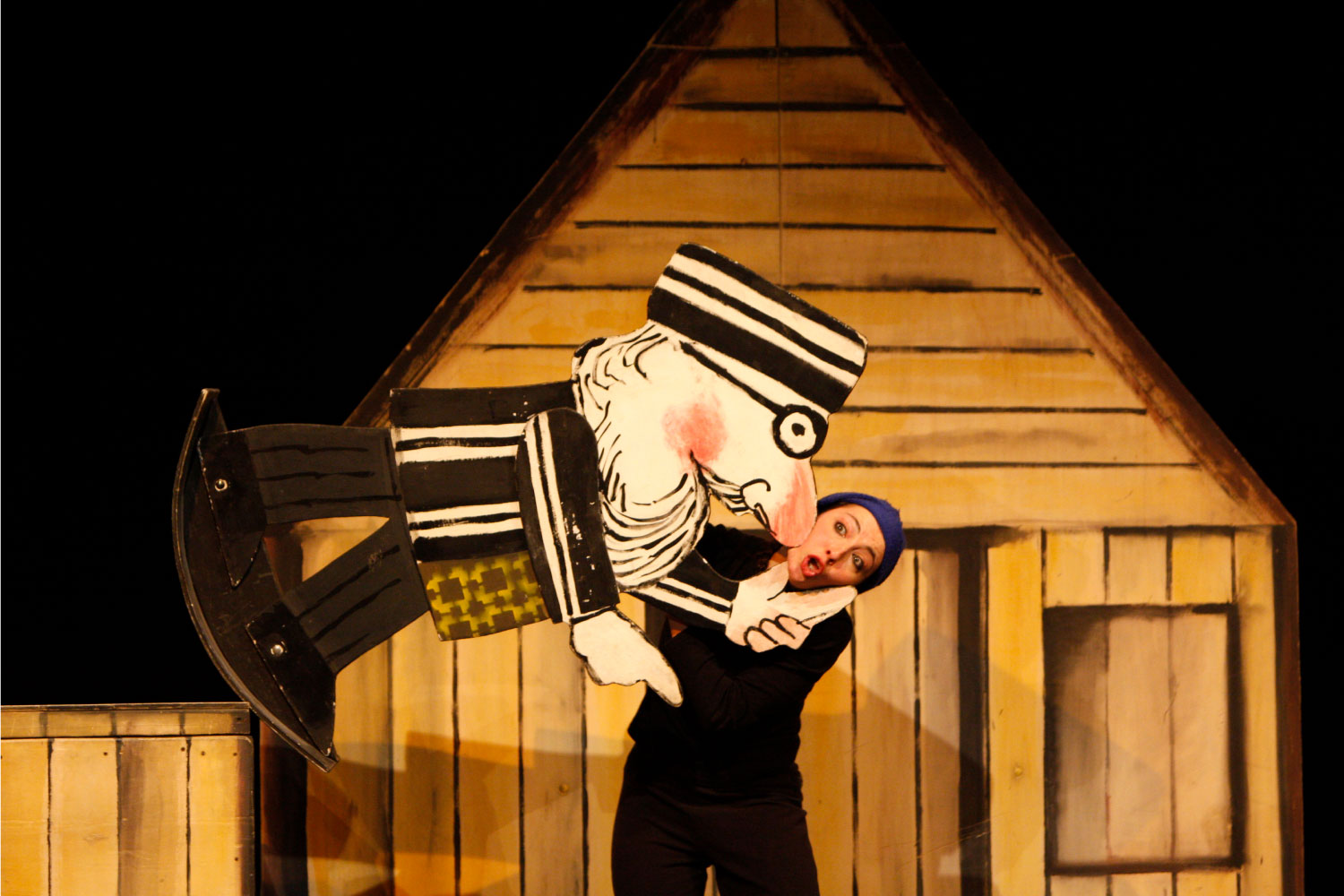 Three bungling actors stage, or rather try to do so, the well-known musical fable "Peter and the Wolf" by Sergej Prokofev.
Already from how complicated the first problems begin, because the three have not really studied!
They are therefore forced to improvise and invent odd ideas, seeking the complicity of the public, to find their way around cats, ducks, wolves, horns and clarinets.
Fortunately, the figure of the Great Narrator reigns undisputed and, with his voice, guides them safely along the path of the fairy tale.
But the three actors, a bit of a clown and a bit of an art comic, are so distracted and confused that they don't follow the story well.
They try to make risky predictions about the fates of the protagonists of the fairy tale and often will have to ask the children for help to better understand the story and allow the Great Narrator to continue.
Like curious children, the three actors will try to reinvent the characters: "How will the character of the wolf change if instead of entrusting him to the horns we make him play the strings?".
And playing together with the audience in an imaginary orchestra, they will discover that in "Peter and the Wolf" the important thing is that the invented story comes to terms with music and its various expressive moments.
Prokofev wrote his musical fairy tale with a specific educational purpose: to introduce children to the instruments of the orchestra, their sound and their expressive character.
This is why he associated a character and a particular musical motif to each instrument.
The narrator of the show, "the Great Narrator", is the voice of Dario Fo who, with his theatrical genius, revisits the original fairy tale giving it a new youth.
On stage the three actors use jokes and gags to build a bridge between the story and the audience.
Their confusion becomes a pretext to point out and underline important didactic passages.
The mechanism of complicity with the public makes it so that the children themselves explain, playing the role of teachers for these three little students.
Every little spectator can therefore, in moments of interaction, give help, clarifications and suggestions, thus becoming the protagonist of a learning path.
Show inspired by the musical fable of Sergej Prokofev, recorded by the Verdi Orchestra of Milan courtesy of the Amadeus magazine, with the unforgettable voice of Dario Fo in the role of the Great Narrator and the scenes and illustrations by Emanuele Luzzati
Show also available in English
Dettagli
producer: Fondazione Aida
director: Nicoletta Vicentini
with: Rossella Terragnoli, Annachiara Zanoli e Enrico Ferrari
voice: Dario Fo
music: Sergej Prokofev Orchestra Verdi di Milano per gentile concessione della rivista Amadeus
scene: Emanuele Luzzati
costume: Maria Bellesini
illustration: Emanuele Luzzati
tecnica utilizzata: Teatro d'attore
duration: 60 minuti
age: 4-10 years
Immagini
Video
Download